Another success for the 2019 MLAI workshop
International Conference - 18/11/2019
Artificial intelligence is developing very rapidly in both applications and fundamental research. It is being driven by the constant development of hard technology, growing interest in machine learning and strong demand from industry and the general public.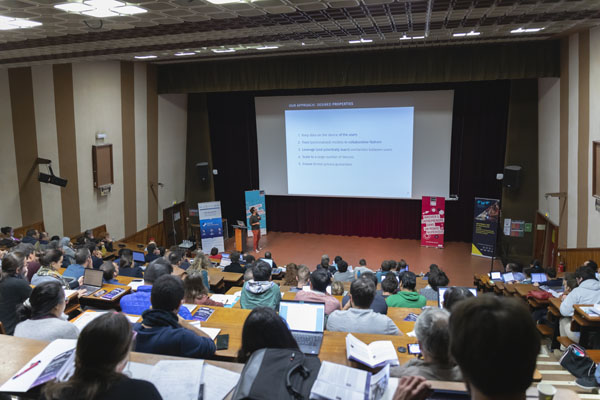 The international "Machine Learning & Artificial Intelligence" (MLAI) Workshop illustrates this enthusiasm. Once again, close to 200 participants came together for the 2019 event, which was held on 7 and 8 October. Over the two days, academics and industry executives specialized in the field presented the latest results from their research.
This year, Chloé Clavel, associate professor at Télécom Paris – Institut Polytechnique de Paris and president of the Workshop Program Committee, chose to highlight particularly promising topics. They were examined in five sessions: strategies for machine learning methods; artificial intelligence, privacy and ethics; human learning and robotics; natural language processing and dialogue; physics and artificial intelligence.
Speakers of the 2019 edition
Francis Bach, Research Director at Inria Paris and Ecole Normale Supérieure
Isabelle Bloch, Professor at LTCI, Télécom Paris, Institut Polytechnique de Paris
Pablo Piantanida, Associate Professor at CentraleSupelec
Aurélien Bellet, Researcher at Inria Lille
Grégory Bonnet, Associate Professor, Normandie Université, Université Caen-Normandie
Pierre-Yves Oudeyer, Research Director at Inria Bordeaux, Université de Bordeaux and ENSTA Paris
Marc Deisenroth, DeepMind Chair in Artificial Intelligence, University College London
Lisheng Sun, PhD student, LRI, Université Paris Sud
Lingfei Wu, Research Staff Member, IBM Research AI
Olivier Pietquin, Staff Research Scientist, Google Brain
Lenka Zdeborová, CNRS Researcher, Institut de Physique Théorique – CEA
Participants were very engaged, they asked many questions and took part in lively debates. This reinforced organizers' view that this type of high-level event addresses the growing needs of both the academic and business worlds. To encourage young researchers, a dozen posters were displayed this year. PhD students were able to present their work in the shape of short presentations, throughout the two days.
The MLAI 2019 Workshop was organized by the Data Science and Artificial Intelligence for Digitalized Industry and Services Chair, with corporate partners Airbus Defence & Space, Engie, Idemia, Safran and Valeo; support from Fondation Mines-Télécom and the DataIA Convergence Institute.
Photos of the events are already available on the workshop website and videos of the presentations will be added shortly. Please subscribe to the newsletter on www.mlai-workshop.org if you would like to be notified when the videos are online.